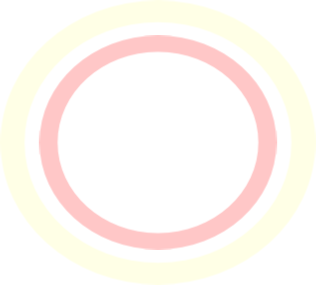 Some past King Rats get together at our 2003 Ball.
Back row: Gorden Kaye, Paul Daniels, Roger DeCourcey, Keith Simmons. Front row: Alf Pearson, Chas McDevitt, Bert Weedon, Don Smoothey.
back
Chas is proud to be an active member of The Grand Order Of Water Rats and has been so for many years. Their website proudly boasts "Film Stars to Punch and Judy Men; Pop Stars to Sporting Heroes; Comics to Dramatic Actors; Musicians to Television Presenters; Magicians to Photographers; Radio Stars to Royalty. The Grand Order of Water Rats exists as a wonderful Fraternity and Charitable Organisation".
Water Rats Ball 2004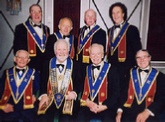 Henry Cooper presenting Chas with Rat Of The Year Trophy 1980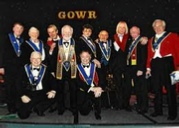 King Rats Chas with;
Don Shearman, Jimmy Perry, Chris Woodward, Joe Pasquale, John Bardon, Rick Wakeman, Roger De Courcey.
Front;
Doug McKenzie & Chris Emmett